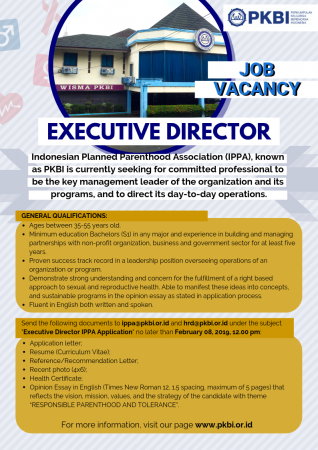 Indonesian Planned Parenthood Association (IPPA) knows as PKBI is currently seeking for committed profesional to be the key management leader of the organization and its programs, and to direct its day-to-day operations as:
EXECUTIVE DIRECTOR
PKBI is a nation-wide NGO concerning on SRHR issues and particularly attuned to the needs of vulnerable and marginalized groups since 1957. We are a passionate group of professionals based in Jakarta, has 27 Chapters and 193 Branches in Indonesia. Working with diverse groups from communities to government officials and international NGOs, We are working towards the fulfilment of sexual and reproductive health. As the pioneer of SRHR movement in Indonesia, We firmly belief that personal welfare, good health, and national prosperity are dependent to a large degree on access to SRH information and services.
Qualifications:
Indonesian citizen.
Available to work full time.
Ages between 35 – 55 years old.
Minimum education Bachelors (S1) in any major and experience in building and managing partnerships with non-profit organization, business and government sector for at least five years.
Proven success track record in a leadership position overseeing operations of an organization or program while maintaining solid relationships with staff, board, partners, donors and community.
Demonstrate strong understanding and concern for the fulfilment of a right based approach to sexual and reproductive health, with the sense of tolerance for vulnerable, marginalized and minority groups. Able to manifest these ideas into concepts, and sustainable programs in the opinion essay as stated in application process.
Fluent in English both written and spoken.
Have wide network with stakeholders in the field of reproductive health and sexuality within donor institutions, government, business and non-government organizations.
Experience with and committed to working in a very diverse situation and willing to travel at the country and abroad.
Have the ability to organize, negotiate and present controversial ideas persuasively; preferably have experiences in collaboration with the business sector and international donor institutions.
Having no legal binding to an employment contract with other organization and not a member of a particular political party.
Send the following documents to ippa@pkbi.or.id and hrd@pkbi.or.id under the subject "Executive Director IPPA Application" no later than February 08, 2019, 12.00 pm:
Application letter;
Resume (Curriculum Vitae);
Reference/Recommendation Letter;
Recent photo (4×6);
Health Certificate;
Opinion Essay in English (Times New Roman 12, 1.5 spacing, maximum of 5 pages) that reflects the vision, mission, values, and the strategy of the candidate with theme "RESPONSIBLE PARENTHOOD AND TOLERANCE". Essay should explore your point of view on right based approach to sexual and reproductive health, with the sense of tolerance for vulnerable, marginalized and minority groups; and strategy on how to build multi sector partnerships to include business sector.
Only shortlisted candidate will be notified for further test.
During the selection process, the IPPA does not bear any costs of accommodation and transportation.